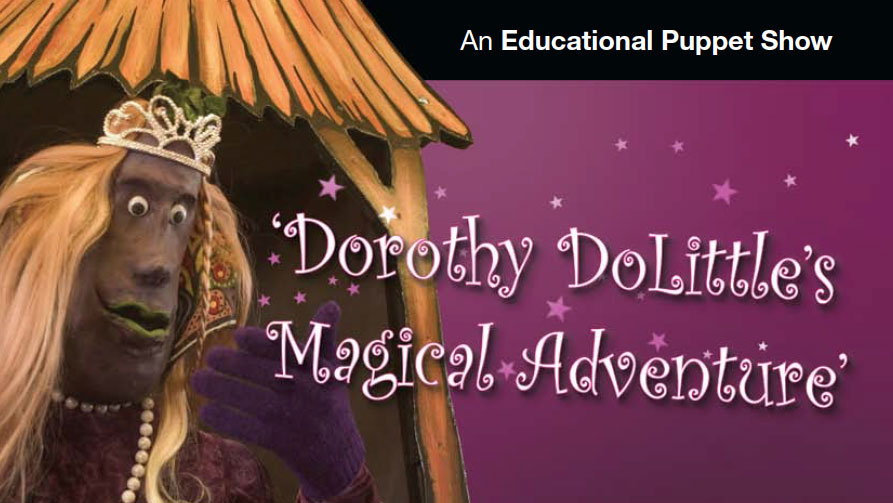 A

Fun

Educational

Puppet

Show
'Dorothy DoLittle's Magical Adventure' is an educational and fun PUPPET SHOW about the importance of Healthy Eating and Physical Activity.
Starring Dorothy DoLittle, Ronnie-Run-A-Lot, Clarence Carrot with a guest appearance by Miss Aubergine (Queen over the Land-of-The-DoLots).
9th Year Running
Suitable for 4-9 year olds – Juniors to 2nd /3rd Class
Length: Approx 55 Minutes
Dorothy DoLittle's Magical Adventure is CallBack's fun educational venture into children's theatre and has been performed in schools, theatres, festivals, libraries, halls, all over the country over the last 9 years (Over 200 shows to date). It tours throughout the year and is available for booking.
Available to Book for Schools, Theatres, Libraries, Conferences, Events, Festivals
Please contact CallBack theatre: callbacktheatre@gmail.com

Synopsis
Dorothy DoLittle is a lovely girl but she is always tired and grumpy. But all that is about to change for Dorothy!!
Dorothy lives beside an old tree but what she doesn't know is that it is a magic fruit tree…the enchanted gateway to a mysterious land called the Land of the DoLots.
With the help of magic DoLot dust Dorothy goes on a magical adventure to the land of the DoLots. There, Dorothy meets Ronnie Run-A-Lot and Clarence Carrot her guardian angels and Miss Aubergine, Queen over all the land who teaches her the all about being fit and healthy. She learns the secrets of the food and exercise pyramids. But the magic dust is stolen!! Will Dorothy get fit and healthy enough to get it back and be able to return home?
---
We take up to 100 children per show. Running for approx. 55 minutes, the show uses puppets and actors in a beautiful colourful set (see attached photo of the set). The show encourages interaction from the children as they learn about the importance and methods of healthy eating and physical activity. The show is a fun, enjoyable, educational adventure, and the message is very important for today's children. In schools, educational and fun Workshop Sheets can also accompany the performance for teachers to take the show and it's messages back into the classroom.
Testimonials
'I would recommend this show to any primary school' – Ger Lennon Educational Psychologist and former Principal of Ardpatrick NS
'The show was well presented, very entertaining, child-centered with an educational twist and extremely good fun' – Teacher, Cappagh NS
'Many thanks for an excellent show. It was greatly enjoyed by all classes from infants to 2nd' – Principal, St. Senan's NS, Foynes
'I have rarely seen children so engrossed and interested as they were in your puppet show. It was lovely to see them unwilling to leave and waving and sneaking back to see you as the teachers ushered them out the door' – Joan Mac Kernan, former Limerick County Arts Officer
'An excellent show, children were enthralled, another wonderful production from Call Back' – Manager, Friars Gate Theatre, Kilmallock
'The show is very suited to the junior classes, it kept the children's attention throughout. Judging by the screams they thoroughly enjoyed it.' – Principal Limerick National School
Bookings: callbacktheatre@gmail.com  /  0872056645