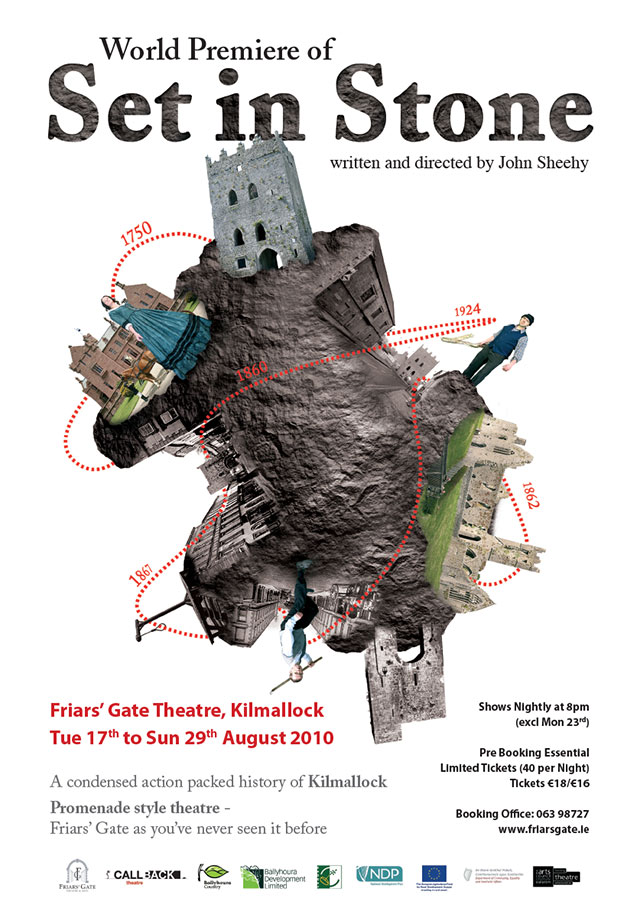 A condensed action packed history of Kilmallock, Set in Stone is a faithful yet highly inventive story full of quirks and carnage.  Journey from 1569 to 2011 – through fierce faction fighting, the scandalous Lola Montez, the Bulgaden Gold Rush and much more. Join us as we bring the vibrant, shocking, hilarious and moving stories that surround us to life.
Set in Stone is a promenade style piece of theatre inviting the audience to literally follow the action from scene to scene. The audience congregate at Kilmallock's beautiful Dominican Abbey before being led to Friars' Gate Theatre. Here they are taken on a journey through time experiencing the theatre and inhabiting the story in a new and exhilarating way.
Set in Stone recreates many scenes from local history and tells the human stories behind some of these most important events. With detailed sets and costumes, the action begins in the 16th century with the town under siege from English forces. Throughout the evening you will: be invited for a drink in 1867 with the locals trapped inside the Freemasons Arms Hotel as the Fenian attack on the town's police barracks rages outside, encounter one of the most notorious female figures of the 19th century in the form of Castle Oliver's Lola Montez, behold the art of faction fighting, be a spectator at Ireland's "Klondyke" in the 1924 Bulgaden Gold Rush and witness the last moments of a young Kilmallock man, sentenced to hang for the murder of a local landlord.
Set in Stone makes for an unforgettable experience as you are taken on a riveting and explosive journey through the milestones of Kilmallock's rich history.
The cast features Cora Fenton, Bob Kelly, Myles Horgan and Bren Barnett.