Love in the time of OCD

AVAILABLE FOR TOURING 2018 and 2019
AUGUST 2018 Tour | Background | Reviews
MEDAL WINNER 2016 PPI National Radio Award
*****  The Herald Scotland
****  The Irish Times
****  Irish Examiner
*****  Trip advisor
"Splendid Production and Powerful Performances" – Joe Duffy Presenter RTE
"John Sheehy's play is a delightful piece, warm, touching and funny" – Emer O'Kelly
"Fred and Alice make wonderful company for each other and for us" – Irish Theatre Magazine
"Whirling Comedy" – The Irish Times
"Inspired" – Irish Examiner
"Please some-one, tour this round Scotland" – The Herald Scotland
"A special piece of work" – Insert Title
With over
150 Performances

to date the award winning Fred

&

Alice is back on tour for

2018
---
A blistering head wreck played at a hilarious pace!
It's not easy to get by in this crazy old world is it? But Fred and Alice have discovered that all you really need are 2 tennis rackets, disproportionate reactions to minor accidents, an immature coping strategy and each other.
Fred & Alice is a quirky love story about 2 amazing mischievous characters who meet in a home, fall in love, play rock concerts, move in together,  have trouble adjusting, sort it out, all done in their own hilarious way.
It wasn't really a home but Fred always called it a home because that was where he lived, and if you are not living at home then where are you? It was love at first sight for Alice. Fred didn't talk to her again for years but then eventually Fred got used to her and it was love at first sight for him too.
From their days in care, to independent living, Fred and Alice negotiate the perils and pitfalls of life and love. Together they create a fantastical world which spills over into a madcap reality when they decide to move in together.
Come see this joyous celebration of individuality.
---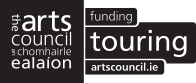 CallBack theatre would like to acknowledge the support of The Arts Council in making Fred & Alice possible
---
Background
Fred & Alice is John Sheehy's second play. It previewed in Friars' Gate Theatre, Kilmallock, Co. Limerick and the Half Moon Theatre Cork and premiered in Bewley's Café Theatre Dublin in February 2013. It received rave reviews, fantastic audience reaction and Sold Out. It was then invited to a number of venues and festivals in 2013. It was invited back to Bewley's Café Theatre for a further 3 week run and again sold out. Fred & Alice had over 80 performances in 2013 and was awarded a Touring and Dissemination of Work Grant by the Arts Council which took place between March and May 2014.  It then transferred to the Oran Mor, Glasgow, Scotland where it played to packed houses and received a 5 star review from The Herald Scotland.  CallBack continued to tour in 2014 and 2015 and was recently made into a radio play by Ocean FM supported by the Broadcasting Association of Ireland.  With over 150 performances to date and another 11 venues booked already we are delighted to be back on tour again for SPRING 2017.
"F**king wonderful" – Niall Tóibín
2017 performances are currently being planned and the show is still available for touring.
---
Reviews and Critical Evaluations
***** "That melding of comedy with uncondescending frankness is what gives Sheehy's script its emotional curve balls"…."remarkable performances from Ciaran Bermingham and Cora Fenton" – The Herald Scotland – full review
**** 'Whirling Comedy' – The Irish Times - full review
"Fred and Alice make wonderful company for each other and for us" – Irish Theatre Magazine - full review
**** – 'Inspired' – Irish Examiner - full review
**** "a charming and uplifting dash of theatre" – Playstosee.com – full review
"A special piece of work…above the ordinary" – Insert Title  -full review
---
SUMMER 2018 TOUR
---
WED 27th JUNE: FRIARS' GATE THEATRE
Kilmallock, Co. Limerick
8:00pm | 063 98727, friarsgate@eircom.net | www.friarsgate.ie
---
THURS 28th JUNE: MULLINGAR ARTS CENTRE
Mount St. Mullingar
8:00pm | 044 9347777, dwheelan@westmeathcoco.ie | www.mullingarartscentre.ie
---
FRI 29th JUNE: NATIONAL OPERA HOUSE, Jerome Hynes Theatre
High St. Wexford
8:00pm | 053 9122144 | www.nationaloperahouse.ie
---
SUN 1st JULY: Brunch at CELBRIDGE MANOR HOTEL
Clane Road, Celbridge, Co. Kildare
BRUNCH 11:30am Sharp: SHOW 12:30pm | 01 6013700; Tickets at door or from eventbrite | www.celbridgemanorhotel.ie
---
MON 2nd to SAT 14th JULY: VIKING THEATRE @the sheds
Connolly's-the Sheds, 198 Clontarf Road, Dublin 3
8:00pm | Tickets: 087 1129970, vikingtheatre@dublin.com | www.vikingtheatredublin.com
---